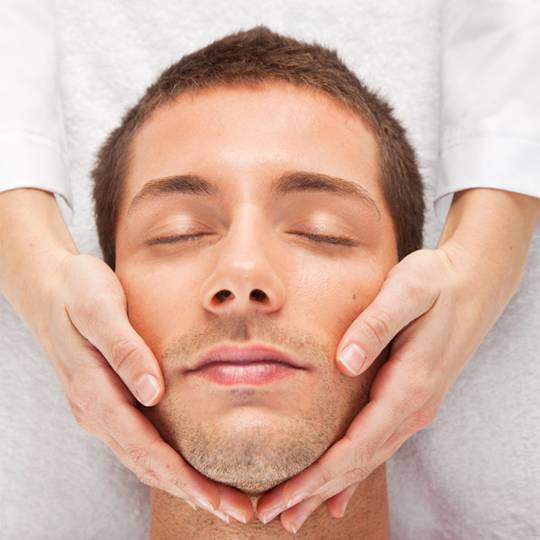 The Many Benefits of Men's Facials
Posted
March 7, 2016
Discriminating blokes from every corner of the globe have begun to discover the transformative powers of a regularly scheduled facial. One of the most important grooming rituals out there, a professionally administered men's facial is a must for every modern man to look his best. Facials are also a popular source of stress relief and relaxation, no matter your gender. Read on to learn about why a good skin care regimen is no longer just a ladies' game.
Good Skin is In
Wanting a clear, blemish-free complexion is hardly exclusive to women these days. Blokes are coming to realize how important it is to put their best faces forward, in the business world as well as in their personal lives. (Really, what woman wants to look at a patchy, discolored, unkempt mug?) When performed by trained technician, a facial can help prevent razor burn and provide relief from acne, excessive sweating, clogged pores, dullness, skin pigmentation, and sun damage.
To improve your complexion, the right treatments are a must. Pore-opening techniques like vapor steam, facial cleansers, facial scrubs, and facial masks are imperative to smoothing out your skin. Repeat treatments are necessary in order to ensure long-term results. If that sounds like too much of a time commitment, we're sure you'll be singing a different tune once you try your first facial.
Treat Yourself
Indulgence is the word here. Facials are an excellent excuse to spoil yourself a little. From soothing eye pads to relaxing head, neck, and shoulder massages, skin care treatments are designed for much more than just vanity. No matter the type of service you choose, there is an element of pampering designed to help recharge and revitalize you in the days ahead. Take our essential oil hot towels, for example. Personalized to your specific needs, they can be used to treat headaches as well as clearing clogged sinuses.
Discover Men's Facials for Yourself
Don't take our word for it. Come see for why blokes everywhere are treating themselves to refreshing, relaxing, invigorating men's facials. Call us at 610-644-3984 or book an appointment online to find out what all the fuss is about.
---