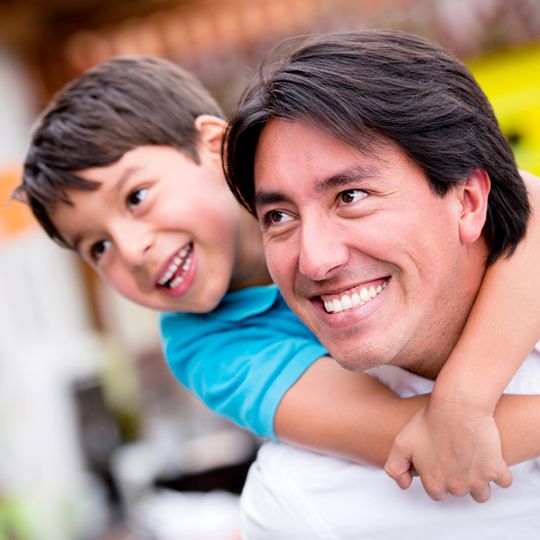 A Feel-Good Father's Day Gift
For the man who has everything and deserves so much more
Posted
May 9, 2016
It's almost that time of year: Father's Day is just around the bend. So, what do you get the man who has everything and deserves so much more? Dads can be notoriously tough to shop for, but at Philly Bloke we have some ideas for how you can show him you care.
Dads deserve pampering on Father's Day
Dads deserve pampering, too. So, how about a gift card for a great grooming experience? The Philly Bloke, our signature haircut service, includes a consultation, shampoo, rinse, cut, and style—something every man needs. Or, give him the gift of good company, as well. The Bloke Tandem is the same service as the Philly Bloke, but it's a treat for both father and son (12 years or younger). They get professional haircuts together!
We know today's modern man wants more than a great cut. That's why at Philly Bloke we have a range of skin-care services from basic to full-blown luxury, as well as manicure and waxing services.
When Dad settles down for a Bloke Facial, the treatment includes hot towels, cleanser, facial mask, and facial serum, plus he even gets a head, neck, and shoulder massage. And that's just the start. If your Dad deserves a truly indulgent experience, he'll be happy to have our Ultimate Facial. Pure relaxation at its finest, this treatment includes hot towels, vapor steam, facial cleanser, facial scrub, facial mask, facial massage, cold towels, and eye pads to invigorate and awaken the skin. No matter which treatment he receives, Dad goes home feeling delightfully refreshed, relaxed, and ready for the days ahead.
Father's Day Packages
If all of these treatments and services sound like a something your father deserves, but you don't know which one to pick, we offer perfectly paired packages that combine some of our clients' favorites. For instance, the Urbane Bloke features our signature haircut and a facial. Now that's a decadent duo any bloke is sure to love!
The experts at Philly Bloke know that the studio experience is equally important as the results. Call us at 610-644-3984 to find out more about our exceptional, enjoyable grooming services and how they can make the most of your modern man.
---